Sponsorship.
Seth Fowler graduated from Texas in 1998. Since 2004, he has been helping home buyers and sellers in the DFW Metroplex. Whether new construction, existing homes, investment property, or land, he is your Real Estate Sherpa – guiding you through the process, making it an enjoyable experience. Based in Tarrant County, however, he will help connect you with a quality Realtor anywhere in Texas, the United States, or in the world. When looking to purchase or sell real estate in this new market, call Seth at 817.980.6636.
First Half. 
The first half between the Longhorns and the Nittany Lions was brutal. There were 20 total points scored in the first 10 minutes of the game, where Texas had an 11-9 lead. It continued to be an absolutely brutal game to watch really for the entire first half, as Texas took a 31-23 lead into the locker room.
The star of the first half, and of the second half, was Dylan Disu, who put up 12 in the first on 6/10 from the field. I wrote in my pregame piece that I figured Rodney Terry would go to Disu early and often, as Penn State didn't play their bigs at all really, and ran several multiple-guard lineups to try to open things up on the offensive end, which didn't happen in the first half.
The leading scorer for the Nittany Lions in this one was Camren Wynter, who went for 10 himself; unfortunately, he didn't get a lot of help from his teammates, as they barely managed over 20 points in 20 minutes. Texas absolutely had them in hell on the perimeter in the first half, where they shot an abysmal 2/13.
Not to be outdone, Texas laid a goose egg from deep in the first, going 0/8 and managing to get their points scored all inside the arc and from the line. Their post play was the difference, since an outside shot didn't fall for the first…32 minutes of game time.
Still, their horrendous outside shooting didn't prevent them from defending as hard as possible, and they really shook the Nittany Lions in the first half.
The 'Horns led by eight at the break.
Second Half. 
The second half of this game probably took years off of your life if you're a Texas fan – after leading basically the entire first 35 minutes, Penn State went on a tear – a 10-0 run got them their first lead since 4-3 in the first half, as they led 58-55 before the four-minute media timeout.
This is where typical teams would buckle and fall apart, but this team is built different. The reason you bring on a bunch of veteran guys is for situations like this. SirJabari Rice, Timmy Allen, and Marcus Carr were built for games like this, and even though their scoring wasn't super high today, they were vocal leaders that helped keep everyone calm.
This game required some real coaching chops, chops that Rodney Terry showed the world he had in this game by rallying them back after blowing a big lead in the second.
After the 58-55 lead that Penn State had, Texas went on a 10-0 run to make it 65-58, and from there, Texas never let Penn State rip the lead back. Dylan Disu was sensational, scoring 16 in the second half and finishing one point shy of his personal record of 29 points, which he scored against Kentucky back when he played for Vanderbilt.
Overall, it was an incredibly gutsy win that showed off the team's brass balls. Having a team steal the lead you'd had for nearly 35 minutes would normally induce panic mode and be beyond discouraging, but this team held it together under their leader Rodney Terry.
They pulled off the win: Texas 71, Penn State 66.
On to the Sweet 16, for the first time since 2008.
Highlight of the Game. 
Dylan Disu was so nasty today on offense that the highlight of the game has to be one of his 14 made field goals on the 20 he attempted. The clip below was one of the most important baskets in Texas basketball history.
And no, I'm not being hyperbolic. This team hasn't made the Sweet 16 in 15 seasons, and taking that step is a gigantic move in the right direction for a program that has had nothing to speak about besides a few NBA Draft picks over the last decade and a half.
Regular season be damned. Watch the clip below.
Player of the Game. 
Dylan Disu wins this award in a landslide after a completely physically dominant performance where he went out and just put the Penn State defense in the torture chamber. As I said already, Disu had 28 points on 14/20 from the field.
For those of you who aren't math guys, that's 60%, according to my deep calculations. 60% is pretty good I'd say for a dude that took 20 shots. Pretty incredible efficiency for a player that is just now seeming to find his form.
Not only did he score 28 points to lead all players, he also finished with 10 boards. He was an absolute force to be reckoned with, and is a major reason why I think this team is national title material.
The fact that Disu has come on so strong in the last two weeks is sort of similar to when an NBA team makes a move at the trade deadline and brings in a stud that completely changes the trajectory of the season, because if he hadn't played tonight, Texas probably would have gotten worked with the way they were shooting outside of 15 feet.
The Nittany Lions weren't ready for the Disu-nami, and the next team Texas faces better bring a damn rain jacket.
Winning in Different Ways. 
This team has an incredible ability to adapt in-game to opponents' styles, due to the fact they have so many strong rotation players who all serve different roles. There's no ego; no one cares about scoring points for themselves. It's genuinely awesome to watch a group of guys led by an interim (for now) head coach who just cares so much about his players. It's really a beautiful thing to watch a team full of selfless guys just play great basketball.
This team hit one three pointer the entire night and won. That's not a typo – they were 1/13 from deep, but it didn't matter because Dylan Disu decided to take over the game. Rodney Terry saw that Penn State was running mostly guard lineups and adjusted accordingly.
The small ball stuff can work on offense, but unless you have a defensively skilled big, a lot of mismatches can be created inside when trying to play defense, which is exactly what Coach Terry exploited by feeding Disu.
This team can play uptempo, they can play a grind-it-out rock fight, and occasionally, they can win a shootout. This team has so much potential and are on the exact right trajectory at the right moment.
The Elephant in the Room.
This has been a debate for me for a while, but I started to warm up to the idea of Rodney Terry being the permanent head coach after the Big XII Tournament started and the team came out so focused. They had lost to TCU the week prior, yet won a really close game with the Horned Frogs thanks in major part to RT's in-game adjustments.
Texas blasted 1-seed KU twice in the same week, whooped a pretty solid Oklahoma State team, beat a really tough TCU team that is also in the Sweet 16, and then won their first two NCAA Tournament games.
In the postseason this year, Rodney Terry is 5-0: 3-0 in the Big XII Tournament and 2-0 in the NCAAs. His track record over the last couple of months has been extremely impressive, and even if he didn't build the team himself, he's done a damn good job of steering it in the right direction through all kinds of controversy and negative media attention.
While I think they should wait until after the tournament to make it official, I have been sold.
Rodney Terry should be the next head basketball coach at the University of Texas.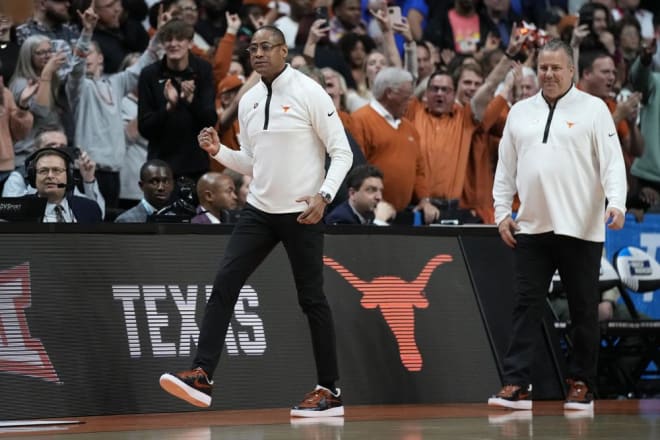 Social Media Reactions. 
Overall. 
For a program that has struggled for so long and yet completely lacked any kind of postseason success, this is like winning the damn lottery.
But this journey isn't over yet.
This team isn't satisfied with a Sweet 16. They're not a mid-major just happy to be there. This team has legitimate, attainable goals of hoisting a national championship trophy on that beautiful Monday night. Texas' former coach always said he wanted Texas to be a Monday Night program, and the man who took over has prepared this team to meet some lofty expectations.
Texas awaits the winner of Pitt and Xavier, who play tomorrow on CBS at 11:40 a.m.
Enjoy this one, fellas. But there is more work to be done.
*****
@keenanwomack on Twitter