Seth Fowler graduated from Texas in 1998. Since 2004, he has been helping home buyers and sellers in the DFW Metroplex. Whether new construction, existing homes, investment property, or land, he is your Real Estate Sherpa – guiding you through the process, making it an enjoyable experience. Based in Tarrant County, however, he will help connect you with a quality Realtor anywhere in Texas, the United States, or in the world. When looking to purchase or sell real estate in this new market, call Seth at 817.980.6636.
First half. 
The first half of this one was a lot more exciting from a offensive perspective than either half of the first game these two teams played on January 7th. People were hitting shots, not turning it over on every possession, and not looking completely inept from deep. In fact, it was a back-and-forth affair that saw Texas' lead wax and wane from as big as eight to as small as three. Both teams were locked and playing good ball; it was't what I expected having watched the last one. Going into the break, Texas took an eight-point advantage, mostly due to the scoring prowess of Marcus Carr, who had 12.
Second half. 
Texas played a really good second half, flexing their offense throughout to answer any kind of run on which the Cowboys tried to get themselves going. They outplayed the Pokes in both halves, as the Texas offense is just significantly better than the Oklahoma State offense. They have better shooters, finishers, and passers. So many different guys contributed tonight – the Longhorns had four players in double digits, including Brock Cunningham, who had 15 on 3/3 from down town. The others were Dylan Disu (12), Marcus Carr (21), and Timmy Allen (15). They never took the foot off the gas, even when the Cowboys would start to get some sort of momentum. It was a really impressive team win, even if the Cowboys' record doesn't seem very impressive.
Highlight of the Game. 
Marcus Carr is a highlight reel in general, and tonight was no different. Here are two of his 21 points on the evening, coming out of a steal and into transition. He helps Disu with the trap on the Oklahoma State guard, leading to a turnover which gave Carr the opening he needed to extend the Texas lead to 13.
Player of the Game (Texas). 
At this point, we should just be calling this the Marcus Carr Award, because once again, he is your player of the game. All of the hype on Carr from his days at Minnesota didn't really translate into last season, but has it ever translated into the now. 21 points on 7/11 from the field tonight for the scoring guard who has completely energized this Texas offense – there's a reason the Longhorns are no. 1 in the conference in points per game and are tied for first place overall after Kansas State's loss tonight.
They can flat out score the basketball, and much of this ability can be attributed to Marcus Carr, who tacked on four rebounds and five assists as well. He was all over the floor on offense, hitting step-backs, off-kilter shots, and fadeaways, all of which he did with ease. When he's on, he's amongst the best shooting guards in the nation, and that is not hyperbole.
Player of the Game (Oklahoma State). 
Kalib Boone scored 18 points on 8/9 from the floor and added four rebounds in the loss. He was helpful in stopping major runs by Texas by scoring inside, as he's a highly athletic post player with skills to match. Another candidate would be John-Michael Wright, who scored 18 as well, albeit not as efficiently as Boone did. These two kept the game interesting and helped put Oklahoma State in positions throughout, but could just never close the gap.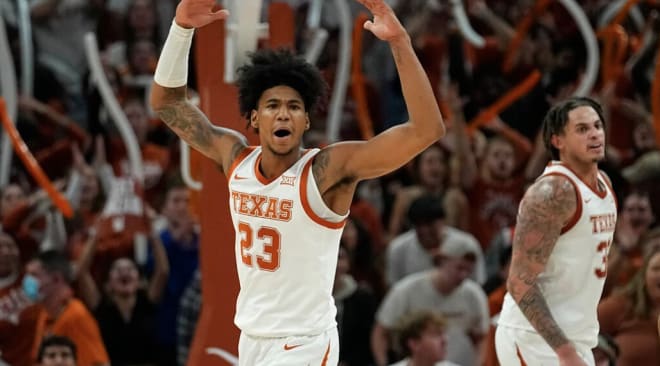 Offensive performance. 
Against one of the best defensive teams in the nation, the Longhorns put up 89 points and shot 51%, as well as grabbing 14 offensive rebounds against a team that's great on the glass. They've now beaten Oklahoma State in two different ways in the last two matchups, showing their versatility and how many varying skillsets it takes to be successful in the Big 12. They shot 8/13. from deep without forcing them; nearly every three taken was a good look, and they made those looks count.
Having an offensive output from your lead guard like this against a team that prides itself on trapping guards and ball pressure defense has to give not just Carr confidence, but the rest of the team confidence as well. The meat of the schedule is coming up – they play arguably the best defensive team in the nation on Saturday when they travel to Knoxville to take on fourth-ranked Tennessee and former Texas coach Rick Barnes. Having this kind of success in this environment creates conviction necessary for winning long term.
Three-point shooting.
I know this technically falls under "offensive performance," but the shooting from range was so impressive today I decided it should have its own category. Here's the breakdown of the shooting by player:
• Marcus Carr 2/2
• Tyrese Hunter 1/2
• SirJabari Rice 2/5
• Brock Cunningham 3/3
8/13 is going to get it done in a lot of situations; they didn't make an absurd amount, but they also didn't waste several possessions on bad misses from deep. Give me 8/13 over 12/30 every day of the week.
Rebounding
Texas absolutely manhandled Oklahoma State on the glass tonight, 41-27 overall and 14 to 11 on the offensive end. They had 16 second-chance points to the Cowboys' four. Any time you can quadruple your opponents in this category, you're generally going to win. Oklahoma State is an athletic team – they don't often get pushed around on the boards like Texas did to them today. Really, Texas played an all-around extremely impressive game on offense and in rebounding. The defense wasn't as elite as it usually is, but the more important thing is that Texas got Oklahoma State to play their fast style instead of vice versa, which is what happened in their first game against each other.
Overall thoughts. 
I figured this game would be a rock fight, and it wasn't at all that – the Longhorns imposed their will on the Cowboys for 40 minutes, forcing them to play uptempo when that is not the style they are used to or want to play. Texas really controlled the entire game, as the Pokes led for a total of 27 seconds; the 'Horns led for 36:36.
Wins like these against relatively lesser teams (it's the Big 12, so you could lose on any given night) are super important, especially when you look forward to the Texas MBB's upcoming schedule:
• at 4 Tennessee (Sat, Jan 28)
• vs 17 Baylor (Mon, Jan 30)
• at 5 Kansas State (Sat, Feb 4)
• at 9 Kansas (Mon, Feb 6)
That is one of the most difficult stretches any team has ever faced in college basketball, without exaggeration. One thing is for certain: We will know what kind of team this is after that stretch of matchups. They could legitimately lose all four and still be on the verge of staying ranked.
Do I think they will? No. But I do think that if you're a Texas fan, you have to be satisfied if they come out of that gauntlet .500. We'll see how they handle the pressure in Knoxville on Saturday.