The Tigers' season is over, but there's still a little bit of football left and there's only one place to get set for game day. Macadoodles does game day like nobody else. Get your crew ready to watch all the big games with a stop at Macadoodles. Whether it's beer, wine or spirits you're looking for, Macadoodles will make your house or tailgate the game day place to be in Columbia this season. Who does game day like nobody else? Macadoodles does.
Every week, PowerMizzou.com publisher Gabe DeArmond answers questions from Tiger fans in the mailbag. This format allows for a more expansive answer than a message board post. Keep your eye out each week to submit your question for the mailbag or send them to [email protected] On to this week's inquiries.
Ted Masters asks: Best guess on which QB will lead Mizzou in passing yardage this upcoming season?What activities do you think Drink will spend more time on now that he has an OC running the offense?
GD: Anything I say on the quarterback is a wild guess. I don't have a clue. I think in an idea world either Jake Garcia or Sam Horn is the starter. That's not a shot at Brady Cook. I thought he took more heat than he deserved last year. But we have a pretty good idea what he is. Is there another step to be taken there? Possibly. But at some point, we have to get a look at what the future of this program looks like. I think most would view the future as Horn or Garcia. I'll admit I'm influenced here by the fact that I want to get some definitive answers about where this thing is going this year. Not "well, they were close to winning more" or "but with the recruiting, the results are on the way." It's time to see tangible progress. It's time to know if the recruiting rankings are going to match the product on the field. If you're starting one of the the younger guys, we're going to have a better chance of getting that answer. And if you're not starting one of the younger guys, it's fair to question if the recruiting rankings really were right over the last few years.
So I guess that's a long way of saying Horn or Garcia, but I don't have any idea which one. Maybe I'll have a better idea after spring football.
As far as what Drinkwitz will spend more time on, it's just running the program. That's recruiting, that's roster management, NIL, etc. The way it was always put during Gary Pinkel's time here was that Pinkel coached the coaches. That didn't mean he wasn't involved in practice or anything, but the position coaches did a lot of the day to day detail stuff and Pinkel oversaw the entire program. It's like anyone who is a manager. I'll just use my personal situation. I'm not writing every story about Mizzou football and basketball anymore. I don't do the game recaps or the practice notebooks. But I know what's going on. I do more big picture stuff, I manage the site staff. I have time to do a lot of things that I wouldn't have time to do if I was spending multiple hours a week writing off every media day or practice or game. It's no different with Drinkwitz. He's still going to be involved day to day. But some of the things that were taking up a lot of his time when he was the OC as well as the head coach are now going to land on Kirby Moore's desk.
OahuTiger asks: With Javon Foster already at LT and with Marcellus Johnson having only played LT, any insight on who starts there?
GD: Not until spring football. My guess would be that Foster stays at left tackle because he's played the position here for this coaching staff. Johnson is more likely at right tackle with Armand Membou potentially sliding inside. But that's a guess. We'll see what it looks like in spring ball.
tunnel asks: Knowing what you know about Dennis Gates and Cy, how this year's team is playing, how they have recruited so far in 2023, give me your opinion on a percentage of likely hood these three things will happen.1. Sign 2-5* and 2-4* recruits in 2024?2. Sign 1-5* and 3-4* recruit in 2024?3. Sign 4-4* recruits in 2024?
GD: I'm going to run down some of the 2024 targets in the Chamber this week. But just a broad response to your question, signing two five-stars is unlikely. There aren't many programs that do that. Over the last five years, the only programs to do that in one class are Kentucky, Duke, Texas, Arkansas, UCLA, Kansas, Indiana, Memphis, Gonzaga, Tennessee, Michigan, North Carolina, Arizona State, Washington, Arizona, Florida and USC. So it's possible. But that's still just 17 programs in five years. There are only about 30 five-stars every year and there are only 20 right now in the 2024 class. Mizzou does have some level of involvement with four of them and has had two of them on campus already, but I'd still say it's not likely. I do think there's a decent chance the entire class is rated four stars or higher. But multiple five-stars isn't something I'd predict.
RockwallTiger asks: Any chance Wesolak moves back to defensive end?
GD: I definitely think it's possible. If he wants to play this year, I think it's advisable. Missouri needs much more immediate help there than it does at linebacker.
mcangus52 asks: What happened to PM affiliation with Every True Tiger?
GD: It's still happening. We've had discussions about it. Specifics are being ironed out. It's not really up to me how quickly it gets done. I did a podcast with Nick Garner, the CEO, this week and that was posted this morning. So you can get a little bit of insight into what's going on and I hope to have the details pretty soon. But again, it's not really in my control.
STL_City_Tiger asks: With the recent portal additions and key players returning, have your early predictions for the 2023 season changed from a month ago? Also, do you now think the Arkansas game has gone from a toss up to the win category?
GD: Nothing has changed as far as what I'm thinking for next season yet. But I also don't know what I'm thinking. I know who Mizzou has gained and lost from the portal, but I don't really know what all of its opponents have. In the age of the portal, I don't think there's much point in trying to break down games and make predictions before the summer. Rosters aren't set yet. And I haven't spent any time looking at the other teams' additions and subtractions.
As far as the Arkansas game, it's going to be a toss up. I know they have KJ Jefferson back. They're not a dominant team or anything, but neither is Missouri. There's no way it's a game you just chalk up as an assumed win.
Save the Tigers asks: Now that Drink has an OC and barring unforeseen events, is it safe to say he has bought 2 years (maybe more) of breathing room as the HC?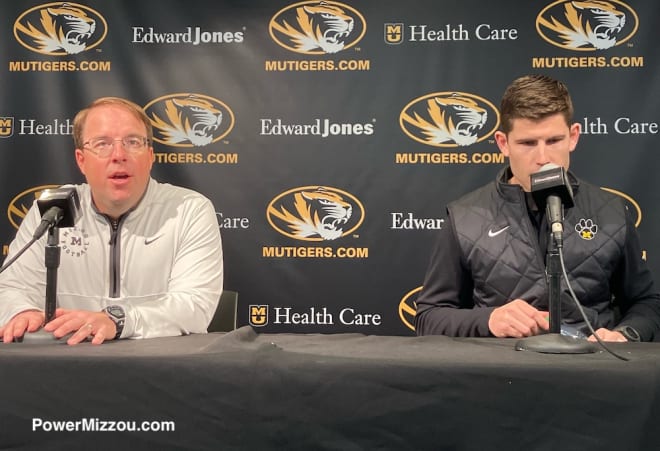 GD: Not in my opinion. Some will disagree. But hiring an OC doesn't change anything for me. The results on the field are all that's going to matter. Again, I'm not going to put a specific number on it, but we need to see progress on the field over what we've seen last year. Everyone just assumes Missouri's defense will be as good or better than it was last year. And it very well might. But every player isn't automatically better than he was last year. And the pass rush is a question. Even though Missouri brought back everyone in the secondary, if the pass rush takes a big step back, that hurts the secondary too. So we have to see that the defense stays the same or improves.
And then the offense absolutely has to improve. We don't know who the starting quarterback is. We do know it's either a guy coming off shoulder surgery or a completely unproven college player. The running game isn't significantly different, nor is the offensive line. Are the special teams improved?
Here's how I'd break down the schedule in tiers:
Easiest tier (can't lose): South Dakota, Middle Tennessee
Should win, it's a problem if you don't: Memphis, Vanderbilt
Those four games are played in the first five weeks. If Missouri isn't at least 4-1 through five weeks, things are going to get real interesting.
Likely losses: Georgia, Tennessee (yes, they could beat Tennessee, but nothing that's happened in the last three years indicates to me I should put that game as anything other than a pretty likely loss).
The rest: South Carolina, Kentucky, Kansas State, Florida, Arkansas, LSU
Putting LSU here rather than "likely loss" is generous. But bottom line, I'm pretty comfortable saying Mizzou is 4-2 with six "swing games." If you win half of those, it's a winning record, it's tangible progress and things are stable. But what if you don't? It's not hard to draw a path to 6-6 or maybe even 5-7. I'd guess the over/under for Mizzou is going to be 5.5. The Tigers are going to be picked sixth in the East. That doesn't mean that's where they"ll finish, but that's going to be the expectation. And if you're 6-6 or worse, he's going to be under .500 through four years and you're never going to have more than six wins in a season. And there are going to be some SIGNIFICANT questions if that happens. And the current athletic director isn't the one that hired him.
TL;DNR version: No assistant coach or recruiting ranking or anything else is going to determine whether he's safe. The wins and losses are going to do that. And Missouri needs to win more than it loses or all bets are off.
Dustin16 asks: If the '23 season brings more "I'm not sure where this is going", would that be the same as a failed season and give DRF enough of a reason to fire him? Say he starts strong and finishes poorly or vice versa, but the result is a 6-7 win team. Too many consecutive seasons of mixed results is almost worse than being straight bad
GD: I almost put this together with the question above because the answers are virtually the same. But there's a twist here. Again, I think the most important thing this season is that we get an answer to the question: Is there tangible progress? Seven wins or more in the regular season is a yes. Four or less is a definite no. If you're sitting around at 5-7 or 6-6, you're just in purgatory where people could make an argument either way. And I think that's worst case scenario. I think there needs to be a pretty clear answer after this year. You're never going to have a definite answer that everyone will agree with, but I think a losing record would be a consensus for most people and I think 8-4 would be a consensus for most people. In between, it's up for interpretation.
MIZ…SEC asks: In your opinion, with NIL are highly rated recruits less likely to be deterred from a school that has a lot of competition at their position than prior to NIL?With the option to enter the transfer portal without having to sit out a year, why not take the best NIL deal out of HS and transfer to another school and get a new NIL deal if it doesn't work out?
GD: How much less deterred can they be? From 2018-22, there were 162 players who were rated as five-stars out of high school. Thirty-one schools signed at least one of them. But 11 of them signed only one. So the other 151 went to 20 schools. Here are the schools that averaged at least one five-star per year in that five-year period:
Georgia: 22
Alabama: 19
Clemson: 16
Texas A&M: 14
Ohio State: 13
LSU: 10
USC: 8
Oklahoma: 8
Oregon: 7
Florida: 5
Texas: 5
So 127 of the top 162 players in the country over the last five classes went to exactly 11 schools. That's hardly a model that says kids were discouraged from going to places where there is competition. In fact, more than half of them (84) went to Georgia, Alabama, Clemson, A&M or Ohio State. Throw in LSU and that's 58% of the five-stars going to less than 5% of the schools.
In the 2023 class, where NIL was in full swing, 17 schools signed at least one five-star. Ten of them signed only one. Here are the schools that signed more than one:
Alabama: 5
Georgia: 3
Oklahoma: 3
Texas: 3
Miami: 2
USC: 2
Ohio State: 2
So it really doesn't look like anything's changed. The top handful of schools are still getting well over half the kids. Then the rest are going to be split up between places. If you have a connection to a kid or a geographic advantage, you may get a five-star here and there. You will not regularly get a five-star. For the vast majority of the country, the best chance to get a five-star is exactly what you describe. He goes to one of the places we all know he's going, gets beat out by other four- and five-stars and transfers somewhere with less competition.
Carnell75 asks:  What portion of the teams depth looks decent at least going into spring ball? What would you like to see that could change your mind positively for the trajectory of this team for 2023.Who are your way to early pre-season ALL -SEC guys?Just to be a true PMer who has the largest thighs on the team this year?Lastly, what are the chances of a refresher of the offense ( Projected starters ) where from and maybe a couple of sentences on them no more than 3. Really feel like I don't know them at all.
GD: It's way too soon to start projecting all-conference teams. As far as the depth, the defense looks pretty solid outside of defensive end. On offense, I think you're comfortable at wide receiver, but not really anywhere else.
The thing about following recruiting is that you always feel good about the potential of your own team. You've followed these guys since high school so even when you're losing players at one position you're saying "Well, we've got this kid and I've been paying attention to him for three years and he's gonna be good." But nobody pays any real attention to who other teams are bringing in. It's not like the competition loses guys and simply has no replacements. We always overestimate the guys in the pipeline for our own team and underestimate the ones in the pipeline for the other team.
I'm just going to be honest about what can change my mind before the season starts: Nothing. I've been doing this too long to make judgments off stars and depth charts and spring football and rumors out of summer workouts and fall camp. I want to see the games. And I want to see Missouri win at least seven of them. That's it. I know it doesn't make for great offseason fodder, but that's where I am. I'll let you guys debate till you're blue in the face (or fingers, I guess since we're all typing). I want to see the finished product.
As far as refreshers on guys, Jarod Hamilton will be doing position previews for a couple weeks leading in to spring football. I'm not going to run through the entire offense in the mailbag.
amhorrell asks: I expected a big shakeup in the RB room with defections.That didn't happen, yet.Prediction on departures in the rb room after spring ball. Number of guys not names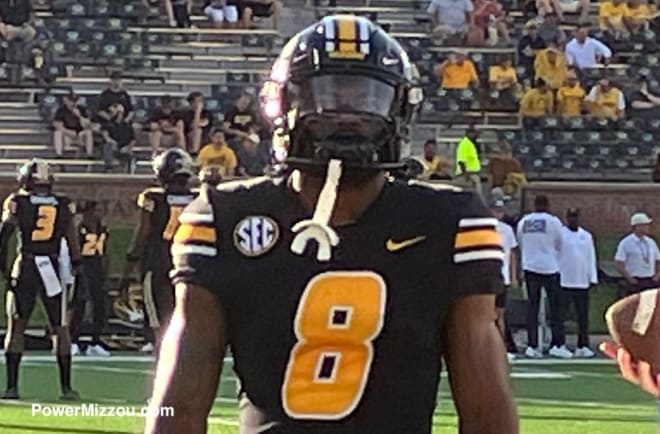 GD: I'm shocked we didn't see it too. With the assumption that Nate Peat is coming back and the assumed addition of Tavorus Jones to him and Cody Schrader, it's hard to see any carries for anyone not on that list. I think you will still see two or three running backs depart.
tigerfever00 asks: Best guess on Jan 24 what the starting O-line is going to look like? Top two on the depth chart at tight end? These seem like the weakest positions from last season….
GD: Offensive line: Javon Foster, Xavier Delgado, Bence Polgar, Armand Membou, Marcellus Johnson. Reserve the right to change that based on future transfers.
Tight end: I guess you have to go with Tyler Stephens and Ryan Hoerstkamp until we see otherwise.
Stay up to date on all the Mizzou news with your premium subscription
Talk about this story and more in The Tigers' Lair
Make sure you're caught up on all the Tiger news and headlines
Subscribe to our YouTube Channel for video and live streaming coverage